I started playing saxophone in the 4th grade…
I can remember the day clearly.
The grade school I went to, Fraser Valley Elementary in Fraser, CO was a small yellow brick 2 story building.  There was only one class for each grade, and maybe 15 kids per class.  An authentic, rural, western slope elementary school.
An announcement was made through the school inviting any student interested in playing a musical instrument to come to the lunch room.  I've always been an excitable boy, and playing an instrument sounded exciting, so off I went.
Seated at one of the tables was the band director from the high school 18 miles away in Granby.  His name was Wes Robbins and the most notable feature about him was how cool he looked.  Pork chop side burns, leisure suit…
He went around the table, pointing at each student and asked them what instrument they would like to play.  When he got to me, I was inspired to spout out, "violin!"  Around the table he continued, and when he got to Twila Reed, she looked at me with sparkling eyes and cooed, "violin…"
Mind you, I was in the 4th grade and I just wasn't that into her at the time.  I quickly changed my mind and told Mr. Robbins I changed my mind and wanted to play the saxophone instead.
My first lesson, being the excitable boy that I am, I put the reed on the mouthpiece and put the mouthpiece on the sax… upside down, as that is how I thought it was supposed to go the couple times before the lesson I tried to play.
Through the years, I excelled in music, always playing lead chair in concert and jazz bands during middle and high school. I played lead alto in jazz ensembles at the University of Nevada – Las Vegas, University of Colorado – Boulder, and Metro State College – Denver.
Throughout my education, I was always playing in one band or another.  I can thank Maynard Ferguson and Tower of Power kick starting my enthusiasm.
Fast forward.  A stint in the Navy.  Getting married. Kids. I put the horn down.  When my kids were old enough to start playing soccer, I thought it was a good idea to play soccer, too!  I joined an indoor soccer league and in short, proceeded to get my ass kicked.  My wife at the time suggested I pick up the horn again instead.  She referred me to a friend of hers that played clarinet in the Boulder Concert Band.
So, I joined the band. Played 2nd alto.  A good place for someone that hasn't played for a while.
My first love has always been big band jazz.  I heard an announcement for the Jazz Festival at the University of Northern Colorado in Greeley. Armed with my newfound music enthusiasm, I went.  I highly recommend going to this event.  It is one amazing college big band after another.
After getting my socks blown off for a couple hours, a band of older people assembled on stage.  They were announced as the Colorado Jazz Workshop. For a bunch of old guys, they played really well.  After their set, Edd Nichols, the director of the workshop, announced they were always looking for more players.  The rest is history.
I've been playing with the workshop over 25 years now as the lead alto in the Monday Night Big Band.  One band begat several others: Citizen Dan, Mass Hipsteria, Flatirons Jazz and Colorado Jazz Workshop currently. BluezHouse, Kutandara and more in previous incarnations.
Here's a statement of why I still play:
"I was the first one here tonight. When I walked in, the manager told me she specifically asked to work tonight because Citizen Dan is playing. Went downstairs to the stage. Another manager came up to me and enthusiastically told me we are close to selling out and they really like our band playing here. Glad the owner is a Dan freak, otherwise this cover band wouldn't stand a chance. Well, we showed him, and we are back here quite often. I step back from this and sincerely feel that it is an incredible honor and privilege to play with great talent to lots of people that dig us. I am not worthy. On second thought, I've been playing these sewer pipes since the 4th grade. As tears well up in my eyes I think, maybe I am. Thanks to my fellow musicians and all the people that come see us. I am truly honored. Come on down, still tickets left. I look forward to seeing you, and playing some incredible music."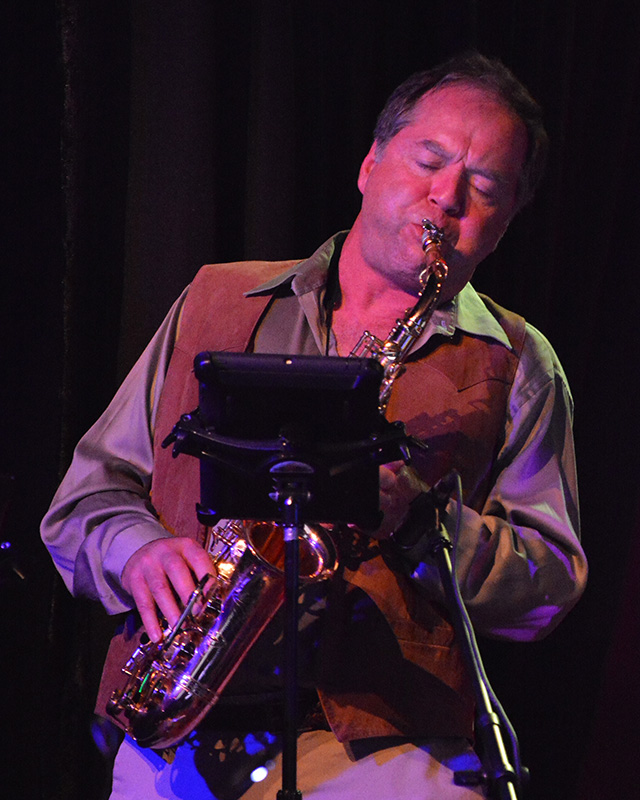 Saxophone, Flute, Clarinet,
Jazz, Classical, Rock, Funk, R&B,
Improvisation Lessons
Just starting?
Want the lead chair?
Improve your chances of getting hired?
or call me: 303.579.8635